Help me to express my best self
and bring out the best in others
The leaders who initiate ambitious transformations dare to adapt their leadership style. To do so, they commit to taking a second look at themselves and allowing their ways of thinking and skills to evolve. As a result, they are at their best and can guide their collaborators in reach their full potential.
AMPLIFY THE IMPACT OF LEADERS
Individual and collective
Organizational transformations need to be supported by a strong culture, while they require the joint evolution of individuals and the collective. An inspiring leader attitude, which is not at all exclusive to managers, influences the culture of the group and causes collective behaviour to evolve. Our specialists help you take the step back that's needed to adopt new behaviours aligned with the desired culture.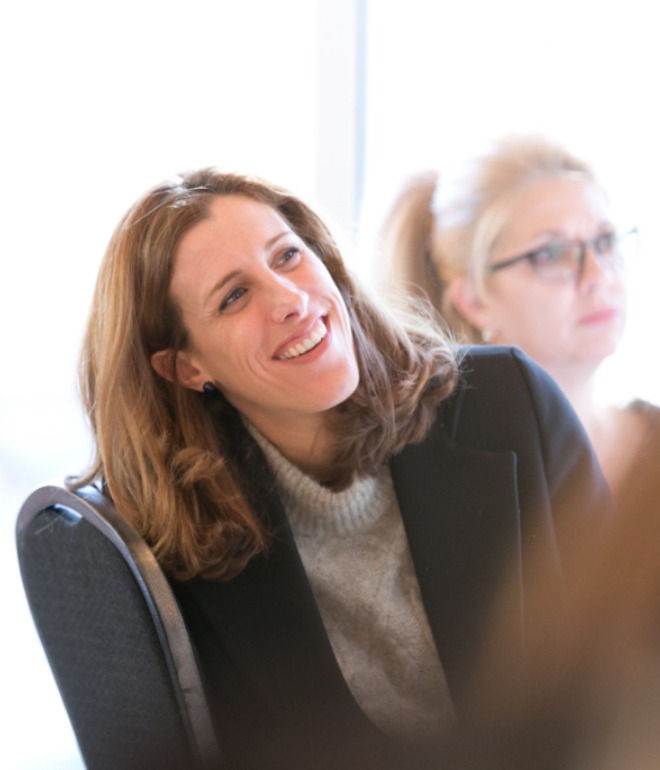 Our convictions
Leadership within your organization, a priority to consider, question and experience
Individual drive, joint responsibility
In a volatile, uncertain, complex and ambiguous world, developing leaders is as much the responsibility of individuals as their organizations. While leaders need to commit to their own self-improvement, organizations are responsible for supporting them in the professional development of their ability to generate more value and impact.
Asking questions to better align
Reality is changing and traditional leadership styles are now a thing of the past. To overcome this reality, it's essential to review ways of thinking, influencing and mobilizing to meet contemporary challenges. Leadership styles must be challenged and adapted in order to always be consistent with the organization's strategy and ambitions.
Experiencing the collective
Three conditions of success are needed to develop leadership:
It is implemented while taking action, on the front lines, when experimenting and with the constant desire to learn from one's successes and errors;
It's aided by a safe and supportive environment, which allows for experimenting and learning;
It's hastened when used for a collective project.
OUR APPROACH
Learning through action
Our approach is based on experimenting and taking action on the front lines, even for ongoing initiatives and projects.
OUR TOOLS AND CERTIFICATIONS
A rigorous leadership assessment to better understand and interpret organizational culture
WHAT THEY'RE SAYING ABOUT US
They put their trust in us.
"Working with the Brio team has propelled UNI in its drive to be an impactful, major-league player. Brio understands our issues, proposes ambitious strategies and guides us with a great deal of agility."

Robert Moreau

CHIEF EXECUTIVE OFFICER, UNI
"I got to experience for myself the high caliber of talent at Brio. We were in the habit of only dealing with large firms (the "Big 4") to guide us in this type of exercise. I have to admit, the results we achieved were beyond my expectations, and it's all thanks to the disciplined approached, professionalism and competence of our support team."

Guy Cormier

President and CEO of Desjardins Group
"I got to benefit from the sustained support of the Brio team, which proved to be highly efficient in putting together a relevant and astute knowledge base in order to articulate the strategic decisions we needed to take. The Brio team made sure that the PVP management team members got to actively participate in the process, and we succeeded in creating a team strategy, which led to better group synergy."

Nathalie Larue

Senior Vice-President Strategy, Marketing, Desjardins Group and Personal Services
"Brio's exemplary support was highlighted by both the management team and the support teams. They orchestrated the work plan with a firm hand and developed adapted and effective tools, just to name a few of the impacts. Without their contribution, the project would not have progressed at the same pace or had the same mobilization from the entire organization. They contributed greatly to our project! "

Nathalie Fagnan, CPA, CA

President and Chief Executive Officer at Héma-Québec
Services
From inspiration to implementation on the front lines
We work at the intersection of leadership, strategy, governance and implementation to help large and medium businesses bring their vision to life. We build an implementation framework that embraces your reality and limitations in order to create sustainable results with high added value for your teams and business.
Let's get to know each other. Let's share our challenges. Let's take action.