Help me navigate skillfully
To ensure an organization's success and sustainability, its governance needs to be equitably distributed between its board of directors and its management. This joint responsibility is based on two main pillars: compliance and value creation.
Fans of all things made to measure
We develop made-to-measure approaches that generate sustainable impacts and create value
We provide boards of directors with customized and proactive guidance in order to optimize their operations.
Over 1,000 directors trained
Over 50 evaluations and adjustments to boards of directors
Over 60 published articles, tools and columns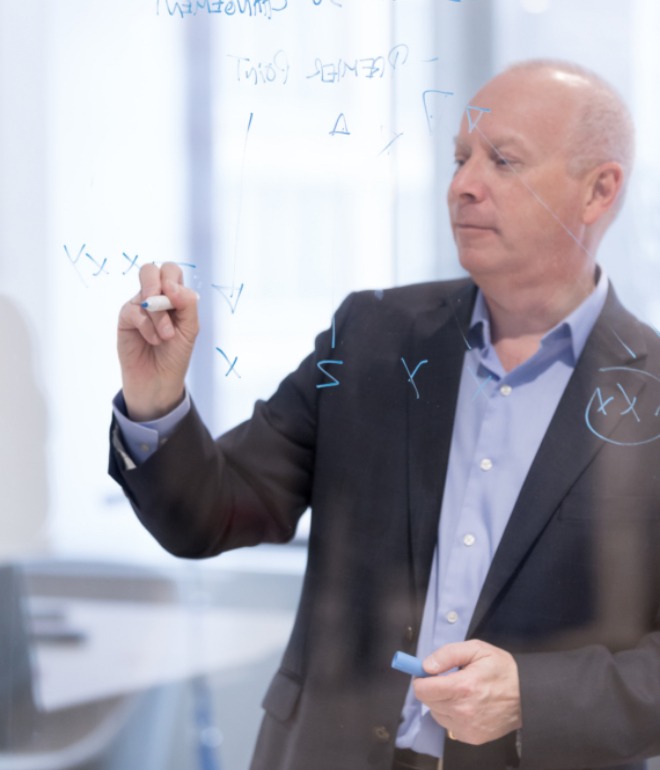 PROVEN TOOLS
Proven tools based on a made-to-measure approach
We support directors with their roles and responsibilities across six different themes:
Strategy
Performance
Compliance
Succession
Governance and ethics
Risk management
Our tools are pragmatic and adapted to each organization's reality. The following tools are intended to establish an effective and exemplary governance:
The organization's governance policies;
Roles and responsibilities — board of directors, committees, directors;
Committees' charter;
The code of ethics;
The guide for administrators;
The onboarding kit for directors;
Annual work planning for the board of directors and committees.
OUR CONVICTIONS
Boost the impact of boards of directors and leaders
"Directors' obligations and responsibilities have considerably changed in recent years. As a result, a board of administration's priority in terms of governance now consists of maintaining and enhancing its legitimacy and credibility through exemplary practices and thorough processes.
We help conscientious boards of administrators reach this objective.
SUSTAINABILITY-BASED GOVERNANCE
Social responsibility as a pilar of strategy and value creation
Social responsibility has proven to be a high-profile issue for organizations. Whether it's for the integration of environmental, social or governance related (ESG) factors, commitment to the UN's sustainable development objectives or any other responsible transformation goal, it's an essential component of governance and needs to be incorporated into each company's strategy.
Board of directors must now actively take on their role in creating value by incorporating governance and social and environmental issues into their roles and responsibilities.
They must now include the social and environmental concerns inherent to our time in their strategic directions and decision-making processes.
Our guidance includes the following elements:
Developing and integrating a strategic framework that takes into account corporate social responsibility (CSR) issues;
Developing the governance and organizational structure to take CSR fundamentals into account;
Establishing a body to process CSR issues and strategy;
Mapping stakeholders and CSR issues (materiality matrix);
Developing a strategy and plan to communicate the board of directors' and organization's commitment to the business's stakeholders;
Integrating CSR into the company's risk management;
Identifying opportunities and implementing management and oversight processes;
Integrating CSR into the business strategy and development plans (goals, objectives, performance monitoring);
Structuring accountability to stakeholders for results by relying on international standards;
Determining performance indicators and targets to measure the CSR impact;
Including considerations related to CSR when recruiting new directors;
Training and coaching in CSR for directors;
Considering CST issues during the business's major strategic decision-making (acquisitions, investments, mergers, business partnerships, compensation for senior management, etc.).
HIGH-PERFORMING BOARDS OF DIRECTORS
High-performing boards of directors conduct self-evaluations to remain credible and relevant
Evaluations are a golden opportunity for retrospection for directors, while it concerns both their individual and collective contributions.
We ensure that the board of directors has all the skills that are useful for fulfilling its mandate in order to act as leverage for the organization's development and sustainability.
Our guidance includes the following elements:
Analyzing the board of director's operation and performance;
Submitting an action plan and recommendations to optimize operations and boost performance;
Defining the performance evaluation process for the board of directors;
Developing a training program adapted to directors' specific needs;
Providing adapted training for individuals and groups to help acquire certain skills or knowledge with regard to the results of the evaluation;
Coaching and organizing work sessions to establish strategies, mission and values;
A robust structure for the organization's service and governance
A structure that is a starting point for implementing the organization's strategy
High-performing boards of directors implement a deft structure to optimize their operations. This structure is based in particular on clear roles and responsibilities and significantly contributes to the organization's sustainability.
Our guidance includes the following elements:
Analyzing and reviewing the governance and organizational structure;
Demarcating governance and organizational structure models;
Developing governance and organizational structure scenarios;
Recommending the optimal governance and organizational structure scenario;
Guiding the implementation of the recommended governance and organizational structure;
Clarifying roles and responsibilities;
Describing the mandates for management, the executive committee, the board of directors, committees, directors and leaders (officers);
Setting up board of directors committees.
Strategy: a beacon for the board of directors and management
Foster a consensus on the organization's future
Good governance is based on free and transparent communication between the organization's management committee and the board of directors. The board now plays an active role in strategic thinking exercises. Therefore, it is appropriate to create opportunities for discussion between management and the board of directors to agree on the strategy.
We help transform these key occasions into unique opportunities replete with discussions and new ideas.
Our guidance includes the following elements:
Organizing thought-provoking workshops with the board of directors and between the board and the management team;
Establishing objectives and developing the program of events;
Preparing relevant documentation;
Organizing interactive, dynamic workshops and activities for reflection and team building;
Providing dynamic and interactive facilitation;
Developing strategic and action plans;
Determining targets and performance indicators;
Following up on action items.
Succession and onboarding on the board of directors: planning is essential
Succession and onboarding into the board of directors: planning is required
The effective onboarding of new directors is planned ahead of time. To speed up the learning curve, we equip new directors to ensure that their onboarding goes smoothly. This guidance not only helps the organization benefit fully from their contribution as of the first year, but also helps it take advantage of new and innovative ideas.
We also guide organizations when identifying and planning for succession within the board of directors and various corporate committees.
Our guidance may include the following elements:
Developing an onboarding process and program for new directors;
Designing training adapted to new directors;
Developing an onboarding guide for new directors;
Coaching new directors with their roles;
Implementation of a mentor program pairing new directors with most experienced ones;
Developing a matrix of skills to identify the directors' strengths and areas in need of improvement;
Coaching for the recruitment of new directors;
Outlining the needs and expectations of new directors;
Conducting qualification interviews for directors.
Adhering to irreproachable ethics: the bedrock of trust for organizations
Directors and leaders are the flag bearers of their organization's values and ethical principles
As the first ambassadors for organizational values and ethical principles, organizations' directors and leaders must adhere to the ethical principles and rules of professional conduct outlined in the applicable legislation and regulations, and in their code of ethics. They need to demonstrate excellence in this regard.
Attentive boards of directors equip themselves with rules of professional conduct to promote integrity, impartiality and transparency in their work. They ensure that strong values are passed on throughout the organization and management, that employees are very familiar with the ethical principles and rules of professional conduct, and that there is sufficient follow-up.
Our guidance is focused on the following elements:
Developing policies and codes of professional conduct and ethics;
Determining core ethical principles;
Identifying corporate values;
Organizing workshops for reflecting on ethical principles, corporate values and key expected behaviours;
Identifying the organization's issues and risks;
Training directors.
Better informed directors for informed decision-making
Conferences and webinars to enhance directors' knowledge
To remain relevant, directors need to keep their knowledge and skills up to date. Our governance professionals are constantly aware of the latest developments and exemplary practices in the field and share their research findings and observations in the field in conferences and webinars.
The topics are varied and vibrant:
The role of the board of directors in terms of strategy, social responsibility and risk management;
Value creation for a board of directors;
The courage of directors;
Conflicts of interest;
Governance trends;
The role of committees and the chair;
Knowledge and know-how;
Succession and evaluation of the CEO;
Etc.
Board of directors: steward of risks
Directors who are better equipped to understand and manage risks
Boards of directors need to proactively manage their organization, while taking into account the risks that it faces. By implementing sound risk management, organizations build on their resilience.
Risk management strategies therefore need to include prospective methods, in particular on how to evaluate the impact of factors of change. It is through such an approach that we are able to establish a true "risk" culture within the organization and create value despite uncertain environments.
Our guidance includes the following elements:
Establishing an integrated risk management framework;
Establishing an integrated risk management policy;
Identifying, evaluating and prioritizing strategic risks;
Defining the governance and corporate risk management structure;
Defining roles and responsibilities;
Outlining the mandate of the risk management committee;
Taking into account ethical risks in relation to organizations' social responsibility.
Services
From inspiration to implementation on the front lines
We work at the intersection of leadership, strategy, governance and implementation to help large and medium businesses bring their vision to life. We build an implementation framework that embraces your reality and limitations in order to create sustainable results with high added value for your teams and business.
Let's get to know each other. Let's share our challenges. Let's take action.