Help me to implement sustainably
Regardless of the type of change that you wish to deploy, the best way to achieve this is to make your company's culture the biggest lever of growth and transformation! By adapting your ways of working and structure according to your objectives, you will definitely maximize your chances of success.
KNOW-HOW
A toolbox and proven expertise
We draw on our expertise to make your vision a reality. Whether working on organizational design, operational excellence, HR practices or change management, we establish the conditions of your success thanks to our various strategic tools and our advisors' experience. Together, we define and apply the road map that will give meaning and consistency to all of your actions.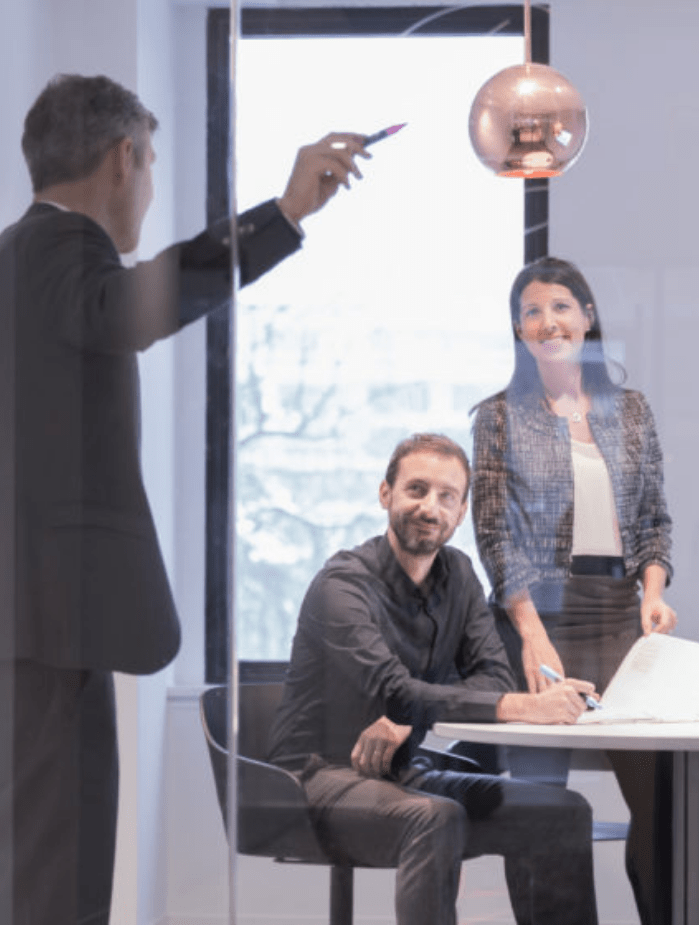 Our convictions
The fundamental principles that guide our actions are as follows
Individuals
Organizational transformation is achieved through individuals.
Flexibility and adaptability
Because each organization is unique and there is no single way to do things properly, we adapt our implementation, design, and change management plans according to the uniqueness of our clients, while respecting their reality.
Front lines and method
Change management when implementing all projects is an experience to be lived and guided while taking the reality of the front lines into account.
Shared responsibility
You are the drivers of transformation and action in your organization. We are here to facilitate. Together, we have a shared responsibility for the success of your projects. This why we need the commitment of the leaders and managers at the organizations we work with.
A DINSTINCTIVE APPROACH
Your issues are our issues
We embrace your reality and are committed to the successful completion of your projects. we help you take a necessary step back without losing your team's momentum. We support your teams without removing their accountability. We guide, support and mobilize them by transferring our knowledge and know‑how to help them go further.
WHAT THEY'RE SAYING ABOUT US
Some organizations that put their trust in us
"Working with Philippe Carpentier for the past few years, and now as part of the Brio Conseils team, has propelled UNI in its drive to be an impactful, major-league player. Brio understands our issues, proposes ambitious strategies, and guides us with a great deal of agility."

Robert Moreau

CEO, UNI Coopération financière
"The people I work with are spontaneous, real, smiling . . . and they are not afraid to ask the tough questions."

Julie Pouliot

Sales and Market Development Director, Énergir
"Brio's intervention in the company-wide roll-out of our expected behaviours and values – aimed at employees and management – led us to question our traditional vision of leadership and spurred the evolution of the entire team's managerial skills. Both innovative and pragmatic, Brio's approach was greatly appreciated by everyone in our overseas team."

Xavier Tadeschi

Human Relations Manager, Innothera (Group)
Services
From inspiration to implementation on the front lines
We work at the intersection of leadership, strategy, governance and implementation to help large and medium businesses bring their vision to life. We build an implementation framework that embraces your reality and limitations in order to create sustainable results with high added value for your teams and business.
Let's get to know each other. Let's share our challenges. Let's take action.